Eating Malaysian food must be a prerequisite for those who claim to be a gastronome. The holy amalgamation of Malaysian flavors is strengthened, not only by the fierce spices but by a group of individuals that are intensely passionate about their food. Malaysians have exposure to all types of cuisine. Malay, Indian, Chinese, and many more. Some of these ethnic cooking styles might be less spicy or plain compared to others, but all are interesting in their own way. Here are a few popular delicious Malaysian foods that you must try when in Malaysia.
Popular Delicious Malaysian Foods
Banana Leaf
One of the popular South Indian cuisines people have the privilege of eating on a regular basis should be chosen is, Chettinad cuisine. Chettinad cuisine is a popular cuisine of the Chettinad region of Tamil Nadu. If you are fond of rice, you will love the Banana Leaf Rice. In this recipe, white rice is served on a banana leaf with large numbers of vegetables, curried meat or fish, pickles, and super addictive papadum. However, most of the time, only the gravy of the curry is served, and no meat is served.  This meal can get sloppy as it is traditionally eaten with the help of a hand.
Nasi Dagang
A Malaysian lunch spread is incomplete without the Nasi Dagang. It is another fantastically mouth-watering dish that consists of rice steamed in coconut milk, fish curry, and added ingredients like Solok Lada, fried shaved coconut, vegetable pickled, and hard-boiled eggs.
Bakuteh
It is one of the popular delicious Malaysian food that you must not miss. The name literally means "meat bone tea", and at its simplest, contains fatty pork ribs simmered in a broth of spices and herbs for a long time, i.e. for many days if possible. However, additional ingredients may include offal, different kinds of mushrooms, pieces of tofu puffs, and choy sum.
Hokkien Mee
It is a Chinese style fried yellow noodles that has a cult following in Kuala Lumpur, Malaysia. It is a dish made of thick yellow noodles cooked in thick dark soya sauce with squid, pork, cabbage, and fish cake as the main ingredients and small pieces of crispy fried pork lard for garnishing. Some consider the pork lard to be the main ingredient. This dish can be eaten for supper or dinner or in fact all the hours of the day. If you haven't eaten Hokkien Mee then, it means that you haven't visited Malaysia properly.
Sang Har Noodles
Next in the list of popular delicious Malaysian foods is Sang Har Kwey Teow, i.e. flat noodles. In this, fresh river prawns are cooked in Cantonese style in a thick egg soup and finished off with either egg or flat noodles. The orange roe in the head of the prawn seeps and infuses into egg liquid sauce of noodles and make the taste unique. The amazing way that the tautness of prawn fish mixes into the springiness of flat noodles like these two components were made for each other.
Charsiew Rice
It is another popular BBQ Pork dish. The name, Charsiew rice, literally means "burn with a fork" in which long fatty strips of boneless pork are pierced with long forks and placed over an oven or fire by covering it.
Apam Balik
You have not truly experienced Malaysian food, especially street food until you taste this sweet treat. This is a pancake-styled snack with a whole package of an omelet. It is stuffed with sugar, peanuts, and the sprinkle of corn. It is a dish that is being reinvented constantly.
Beef Rendang
It is one of the popular beef dishes found in Malaysia. This dish was brought to international popularity when Gordon Ramsay visited Malaysia to learn the process of making it. The softness of the meat and high flavor of its sauce is prepared by cooking it over low flame for many days.
Assam Laksa
This is one of the popular delicious Malaysian foods that you must not miss. It is rice noodles served in sour tamarind broth which is garnered with vegetables and mackerel. Its spicy taste prompts a kind of heat in the back of your mouth.
Bakuteh (BKT)

Literally, the name translates as "meat bone tea," and its simplest form contains fatty pork that is simmered in a broth made of spices and herbs. It is cooked for as long as possible. However, extra ingredients may include offal, different types of choy sum, mushroom, and small pieces of tofu puffs. You will find large numbers of restaurants in Malaysia that are popular for this dish.
Ipoh Hor Fun
These special flat rice noodles found nowhere in the world have not simply a delightful taste but also an exciting story to inform. This dish was brought by the Chinese immigrants at Ipoh. These noodles get their unique flavor from the special spring water from limestone hills. This rice noodle is served in a rich chicken and prawn broth made with shredded prawns, spring onions, chicken, fish balls, and mushrooms. Also known as Kai See Hor Fun, they are at times served with hot chilies dipped in soy sauce.
Soupy lou shu fan
Sometimes defined as "mouse tail noodles", the name is not as off-putting as it sounds. It looks like rice noodles, but the taste differs. Lou Shu Fan is great to eat as they are slippery. It is a nice and tasty meal for those who are partial to fewer spices in their food.
Nasi Kandar
If you love rice, this is another great local dish that is hard to miss. It is a popular northern Malaysian food, which is originated from Penang. It is a meal made of steamed rice which can be mildly flavored or plain. Generally, it is served with varieties of side dishes and curries. The rice goes well with side dishes like gizzards, fried chicken, fish roe, curried mutton, fried squad, or fried prawns. If you are a vegetarian, then you must try the dish with okra, bitter gourd, and brinjal.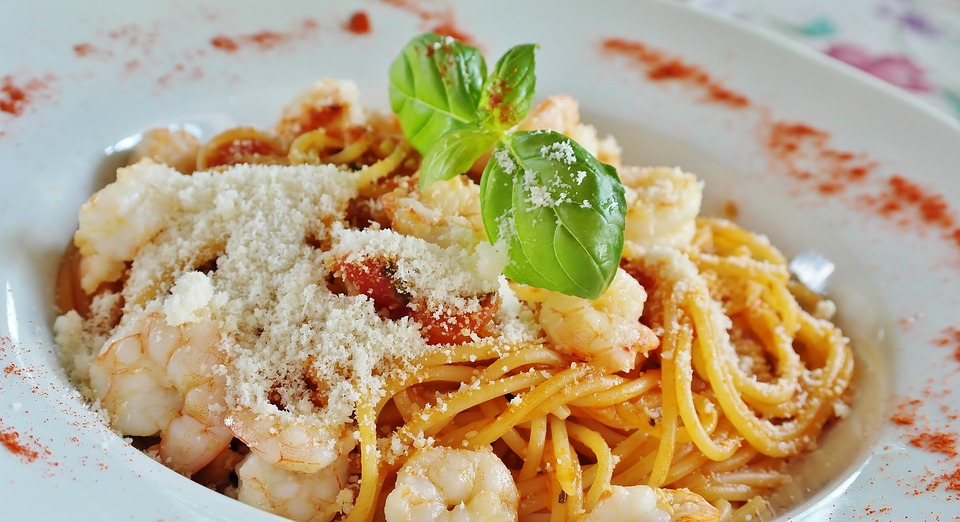 Curry sauces are poured over the rice. Always make sure the sauces are mixed well. Let the sauce soak through your rice and enjoy the awesome taste and aroma. This is known as Nasi "Banjir" and presents a multifaceted taste to the rice. There are many who eat the sauced soaked rice using their fingers. The aroma is so strong that it stays in your hands even after washing.
Satay Chicken
In Malaysia, you will see the towering piles of skewers and the strong smell of satay everywhere- starting from hawker stalls and Pasar Malam. These skewers are tossed on the grill. Each country in Southeast Asia has its own special Satay recipe. Malaysian Satay is made of common ingredients like turmeric powder, lemongrass, coriander powder, and shallots.
Charsiew Rice
Charsiew is another popular dish in Malaysia. The term, "Charsiew" literally means "burn with a fork" where long fatty strips of seasoned boneless pork are pierced with long forks and placed over a fire. Typically, the shoulder cut meat is seasoned with a mixture of five-spice powder, honey, soy sauce, and fermented tofu. The seasoning along with melting sugar turns the outer layer of the meat into dark red color. Sometimes, a sugar coat is used instead of honey to provide a shiny glaze.
Do not miss to taste these popular Malaysian dishes when you are in Malaysia!