The street markets of Kuala Lumpur are perhaps the best places for first-time tourists who look forward to experiencing authentic Malaysian culture. Providing a wide array of fresh products, clothes, accessories, handicrafts, and jewellery at affordable prices, these lively roads are best for those who are becoming tired of the commercial malls in this city. Let us find out some of the best street markets in Kuala Lumpur that you must not miss.
Open from early morning till past midnight, these outdoor markets can become pretty humid and hot, so it is recommended to wear comfortable shoes and clothes and drink lots of water. From the historical Petaling Street to the Chow Kit Market (the largest wet market in Kuala Lumpur), few best street markets in Kuala Lumpur are not only situated near to city centre but also accessible through monorail trains or LRT.
Best Street Markets in Kuala Lumpur
Petaling Street:
Regarded as the most popular street market in Kuala Lumpur, Petaling Street is a vibrant and lively shopping district situated in Chinatown, Kuala Lumpur. This market has large numbers of stalls that sell different types of stuff at a cheap price. A huge green sunshade covers the whole street, protecting the visitors and vendors from heat and rain when they shop for counterfeit watches, handbags, clothes, and accessories. If you have good bargaining skills then, you can do a lot of shopping here. Also, you will find wide varieties of delightful cuisines.
Chow Kit Market:
Popularly known as the largest wet market of Kuala Lumpur, this market boasts a culturally enriching and lively scene with rows of meat, seafood, local fruits, fresh vegetables, and spices. Faint-awaited people might get a little squeamish by seeing the live fish swimming in slabs and pails which are getting butchered in the open, but once you have passed that area, a wide array of street food awaits you. Sheltered by huge colourful umbrellas, the dry section of this market is very much clean and perfect for the tourists as there are large numbers of shops selling CD's, shoes, clothes, and textiles at affordable prices.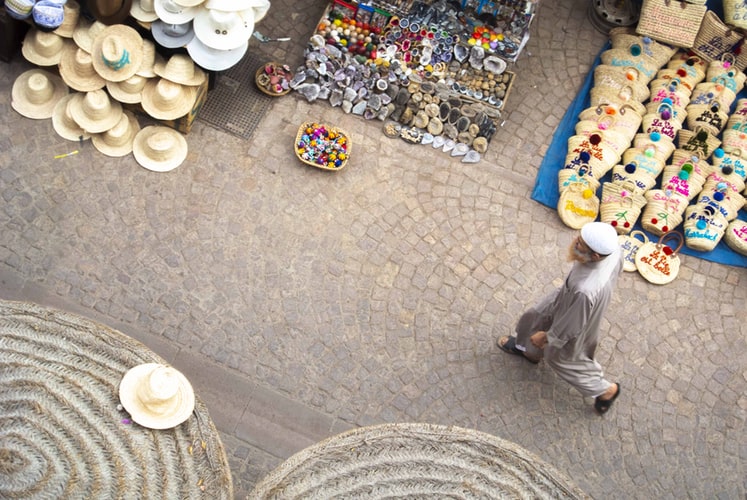 Kasturi Walk:
Located alongside the Central Market, tourists flock to Kasturi Walk for the fake-labelled bags, t-shirts, flip-flops, and watches. On the way, you can enjoy local snacks and fruits. Located within a five-minute walk from Pasar Seni LRT station, the entrance of this covered market features an elaborate pewter Wau Bulan, a traditional Malaysian kite that looks like a butterfly. While Kasturi Walk does not have a similar kind of extensive range of dealers as Petaling Street or the Central market, goods are reasonably priced, and you may even get better products if bargained properly.
Taman Connaught Night Market:
This market is set up every Wednesday. Here, you can find more than 700 stalls. Exploring the whole market will take nearly two hours as there are many inexpensive accessories, clothing, bags, books, and many household products. Highly famous amongst the local community, this market is popular for its wide array of Chinese products like char kuey teow, curry noodles, satay, and laksa, varieties of snacks, desserts, and ice-cream.
Bangsar Sunday Market:
Situated in the popular commercial district of Telawi, the Bangsar Sunday Market attracts a large number of visitors every Sunday, who come to experience and explore the expansive collection of fresh food, seafood as well as flowers. This is also a great place for some authentic local dishes as there are various restaurants and cafes here, which provides a myriad of various Malaysian cuisines.
Central Market:
Also known as Pasar Seni, Central Market is one of the best street markets in Kuala Lumpur. It was established in 1928 as a dry market but underwent a renovation in the 1980s when it was transformed into a handicraft market with boutiques and shops selling souvenirs, handicrafts, and traditional Malaysian clothing items. This market has stalls that serve local Asian delicacies. Here, cultural shows are a common sight. The National Heritage Department has characterized Central Market as a Heritage Site. Considering its significance for tourism and economy, transportation to the market has been made simple and convenient.
Jalan Masjid India Market:
As the name indicates, Jalan Masjid India Market serves the Indian Muslim community. This street market is covered with a blue-tinted glass awning which serves as a protection against rain and sun rays. This market has shops of bags, clothes, jewelry, souvenirs, toys, accessories, etc. Most of these are traditional Indian items. The market has food shops selling local Indian and Malay snacks. During Ramadan, the market is lit up and food stalls are opened till dawn and dusk, to provide food to those who fast as per the Ramadan tradition.
Fiesta Nite at Plaza Mont' Kiara:
Standing in sharp contrast to other local night markets in Kuala Lumpur, the Fiesta Nite at Plaza Mont Kiara is a rather upscale type of a market, which takes place every Thursday at the Plaza Mont Kiara. The market is frequented by office workers and local people, who find the quality of goods to be considerably better than that of those you found in other night markets across the city. At this night market, eighty various stalls come together, in front of the fountain courtyard. It offers the best choices of fruits, flowers, books, and clothes; alongside these commercial items, you will find a lot of handmade and homemade products by local bakers in the market.
Kampung Baru Market:
It is a night market that is operational from Saturday evening till Sunday morning. Established in 1899, it is run by local Malays. This market sells mainly traditional Malay clothing items like the sarong, Baju Kuring, and Songkok, along with handicrafts and jewelry. This market is popular for its food stalls that serve typical Malay dishes like satays, nasi lemak, rojak, kuih, grilled fish, etc.
Taman Connaught Market:
Also known as Cheras Pasar Malan, Taman Connaught Market is a Wednesday night market. It is the longest street market in Kuala Lumpur comprising 700 stalls in an area of 2 kilometers. The products sold here include accessories, clothes, books, home decoration items, and handicrafts. Traditional Malay foods can be found here. These include satay, curry noodles, laksa, and a few desserts. Thai, Korean, Taiwanese delicacies are also served in this market. One of the major attractions in this market is chili tofu, a deep-fried, and fermented street food.
Pasar Malam Jalan Tuanku Abdul Rahman:
Popularly known as the Grand Dame of Kuala Lumpur shopping, the Pasar Malam Jalan Tuanku Abdul Rahman is a welcome relief from the general shopping in malls that is so typical of the city. The market is home to several established brands like P. Lal, G.S. Gill, and P.H. Henry. However, you can also buy varieties of local goods like luggage, winter clothing, sportswear, leather items, and much more.
Fiesta Nite at Plaza Mont Kiara:
Fiesta Nite is a street market situated in the neighborhood of office buildings. It is practical just on Thursday evenings and has only 80 stalls, including flowers, books, clothing, cosmetics, fruits, etc. You will also find stalls that sell sweet treats. During Christmas, the market becomes morse cheerful than usual with live dance, food trucks, music performances, and acrobatics.