Bangkok is an amazing place for people of all age groups. Most of the people, when asked where they prefer going for a vacation, they say Thailand. The tranquil sea and its adjoining areas are awesome. Every year large numbers of people visit Thailand for a memorable vacation. One of the most interesting things about this country is its night markets. If you are planning to visit Thailand, then you must visit the night markets in Bangkok.
The markets in Thailand are known as Talat. Most of the shops remain open throughout the whole night. You can shop and roam around the entire night. While shopping in the streets, you can enjoy Thai street food too.
The night market in Bangkok is known for vintage fashion fanatics or anyone who is looking to mix in some cheap and tasty Thai food. Here is a list of the top night markets in Bangkok.
Popular Night Markets in Bangkok
Rod Fai Market
This night market is also known as the "Train Market." It is located on the outskirts of Thailand. As it is situated next to the railway tracks it is known by the name of "Train Market." This Bangkok night market is popular among the local people.
You can find all kinds of items here including varieties of street food. There are even small restaurants and cafes that sell local Thai food at an affordable price. In fact, the Rod Fai market is known as one of the best night markets in Bangkok.
Asiatique the Riverfront
If you are thinking about where to shop in Bangkok, then Asiatique the Riverfront is the best place to be. Situated along the murky banks of the Chao Phraya River, this is one of the most interesting and trendiest markets in Bangkok.
You can reach this market through the boat, which will make the journey more exciting. Unlike other top markets of Bangkok, here, visitors will not find scam goods. This market is clean, more organized, and filled with a lot of fashionable items.
Talad Neon
One of the top night markets in Bangkok, Talad Neon is situated beside The Palladium/ Berkeley Hotel, opposite to the popular Kaiton Chicken Rice and diagonally opposite to the Novotel Platinum Hotel/ The Platinum Fashion Mall. The opening hours of Talad Neon are in the evening from 4 pm to 12 in the midnight.
Khaosan Road
Khaosan Road is the center of the backpacker's world. Its global travel shops can arrange your outward journey, whether it be trains, buses, or flight tickets. The many tailors will happily beat you up with a sharp suit ready for you when you come back from the islands.
Here, you will find large numbers of secondhand bookstalls. There are even shops for modern essential goods too like chemists, internet cafes, banks, convenience stores, and monetary exchanges.
Patpong Night market
Patpong is one of the must-visit night shopping destinations in Bangkok. Found in the built-up area of Silom, the place is busy and chaotic with all commotion from the noisy bars nearby and many foreign tourists. This market in Bangkok's nightlife is the first stop for many tourists coming to Bangkok, while they can stay at one of the many mid-to-high-end hotels located in Silom.
Chang Chui Bangkok Plane Night Market
Chang Chui Bangkok Plane Night Market takes Bangkok night markets to several "new heights." You will find a wide range of dining and shopping here, combined with urban, modern, and wacky art pieces, most of it made from scrap or recycled materials. The idea behind the night market is that "nothing is a waste" and we are confident you will be impressed by what the artists have managed to build.
The large shell of a Tristar airliner is the actual head-turner at Chang Chui, but as you explore the grounds, you will find a large number of sculptures and urban art pieces. It seems all the walkway leads to something interesting. This feature makes it one of the best night markets in Thailand.
Chatuchak Friday Night Market
Chatuchak Weekend Market in Bangkok, also known as JJ Market, was once popular among traders and wholesalers, but now has reached a landmark status as a must-visit place for travelers. The sheer size of the market and diverse collection of merchandise will bring any veteran shopper to his knees- it is where you can exactly "shop till you drop."
Chatuchak is home to over 8,000 market stalls that are spread over more than 14 hectares. On a weekend, over 200,000 travelers come here to sift through the products on offer. Experienced shoppers would agree that here just about everything is on sale, though not all at the best bargain prices. But, if you have one weekend in Bangkok, manage some time and go for a day trip to Chatuchak Weekend Market and you will not disappoint later.
Chatuchak Weekend Market is the right place for bargain hunting, though whatever you purchase here is possibly no longer the best deal. So, brush up your bargaining skills and prepare yourself to walk away when the deal fails. Then, either the shopkeeper will offer you a low price or you can just find the same stuff at another shop. It also assists to do a few practices runs before you start purchasing. Note that a friendly attitude and a smile are your biggest support in securing the best deal.
Pak Khlong Talat
This night market is also known as the Flower Market. It is the largest flower market in Bangkok, and it opened for 24 X7. The market looks like an island of flowers. In this wholesale market, you will find huge varieties of flowers in different colors. The rush generally consists of the wholesalers. The entire environment turns out to be a pleasant one. If you are in Bangkok, Thailand, then you must see this market.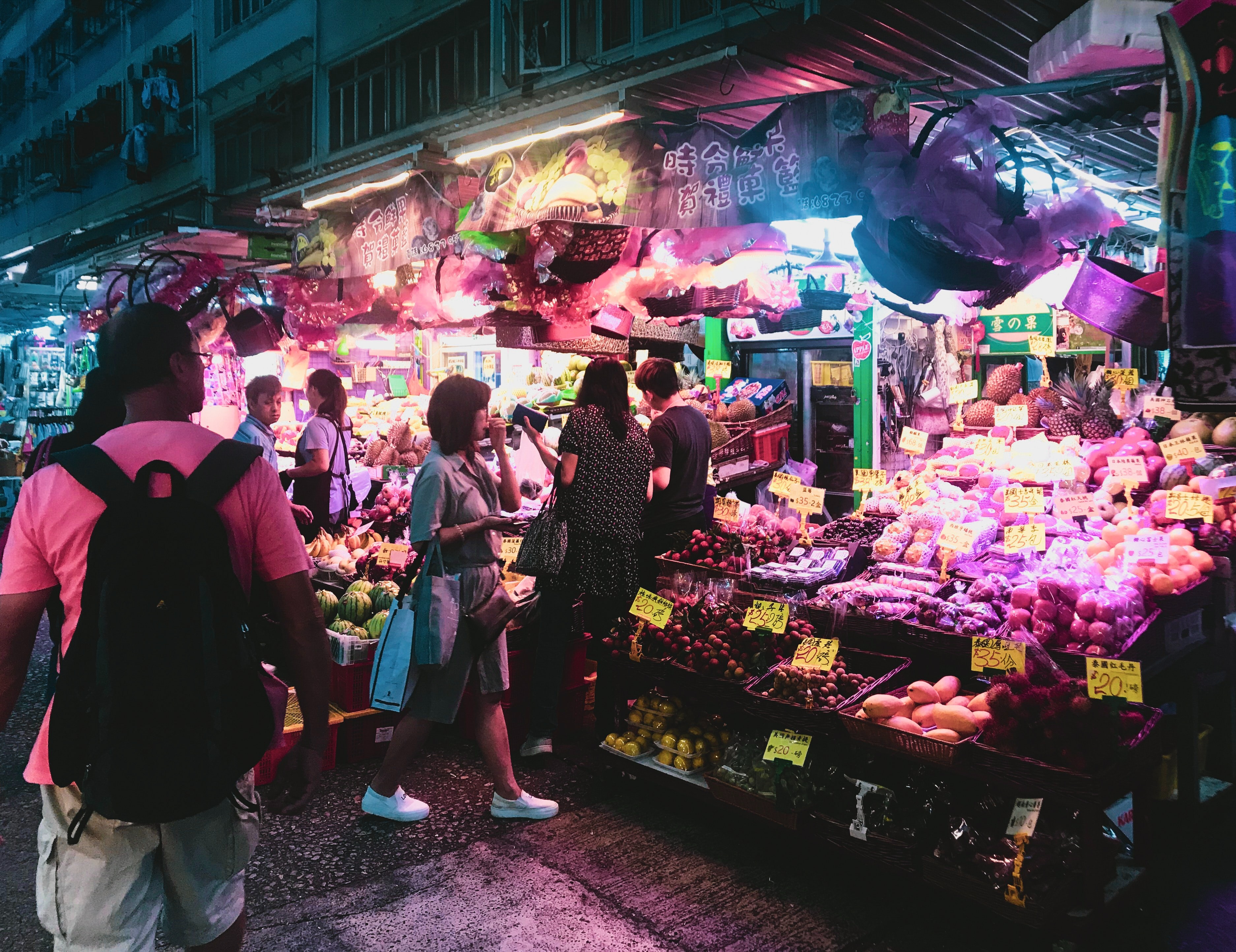 Indy Night Market
Situated in Pratunam, this market is located within the location of Platinum Mall. This market is small but has a great collection of antique and handloom products. When you are done shopping, you can also taste a wide variety of international foods. They are delicious.
Hua Mum Night Market
Hua Mum market is a clean and organized night market with a lot of food outlets and live music around. It is a less crowded night market and can provide you all types of items at reasonable costs. If you want to experience the Thai culture, then visit this night market as you will hardly come across any English-speaking traveler or stall descriptions written in any other language other than Thai.
Neon Night Bazaar
Following in the industrial-meets- eccentric trend initiated by Artbox, the Neon night bazaar lights up the downtown Pratunam district with its specific youth-oriented market experience. The general range of bags, phone cases, souvenirs, and clothes litter the market shops, all bathed in a light neon glow from the lights from which this place got its name. Potent drinks can be enjoyed at bars that are set across the market, all situated in shipping containers.
Tourists who are below the drinking age can also enjoy the bazaar, with a Ferris wheel, a carousel, and a zoo.
Suan Lum Night Bazaar
It is the second incarnation of the Suan Lum Bazaar, the biggest night market of Bangkok; the first was a huge affair situated on Rama IV Road near the Lumpini Park that was closed in 2011. With about 2,000 stalls, Suan Lum 2.0 retains the scope and size of the original.
Expect the general range of accessories, clothing, household goods, souvenirs, crafts, and jewelry- haggle down the costs to attain the best value.