Chatuchak is in Bangkok. It is popular for the Chatuchak weekend market, one of the biggest markets in Southeast Asia. It is a great place for shopping, as there are too many shops selling second-hand memorabilia and antiques. Street stalls and local markets offer authentic and tasty Thai dishes along with traditional sweets. The Park attracts a lot of families and those who are looking for a convenient escape from Bangkok. Here is a list of things to do in Chatuchak Market.
What's more, easy public transport choices make Chatuchak easy to access. Thanks to the MRT Underground Station at the Chatuchak Park, the Mo Chit BTS Skytrain Station, and a lot of bus lines. The area also offers a convenient gateway to other areas in North Bangkok, like Ladprao, Saphan Kwai, and Vipawadee Rangsit. Apart from these highlights, Chatuchak is not a vastly popular part of Bangkok for travelers, but there are a lot of things to see and do.
Things to do in Chatuchak Market
You can relax in the greenery of Chatuchak Park. It is a large park with a lot of space to sit under the sun or under a tree. Park benches are scattered throughout the park. Situated right next to the BTS and MRT stations, there are public conveniences and a variety of food vendors outside the park. A quaint bridge crosses a pond, and fountains make the area attractive. It is one of the oldest parks in Bangkok which is one of the popular hangout spots for locals.
Admire the attractive Queen Sirikit Park
Next to Chatuchak Park, you will find another popular place to enjoy being outdoors: Queen Sirikit Park. This landscaped park has different ornamental flower beds and small ponds with lotus flowers and fishes along with fountains. Decorative lamps stand proudly along the wider pathways. Bicycles are available for exploring this big park.
Explore the spacious Rod Fair Park
Known as the Train Park in English, Rod Fai Park is another park near to Chatuchak Park. Famous among people who enjoy outdoor leisure activities, the park attracts joggers, cyclists, and keen walkers. Used as a gold course previously, this park is filled with nature and wildlife. Trees offer welcoming shade from the sun and you are likely to see and hear a lot of birds. You may even see a lizard swimming through the ponds or by the side of the banks.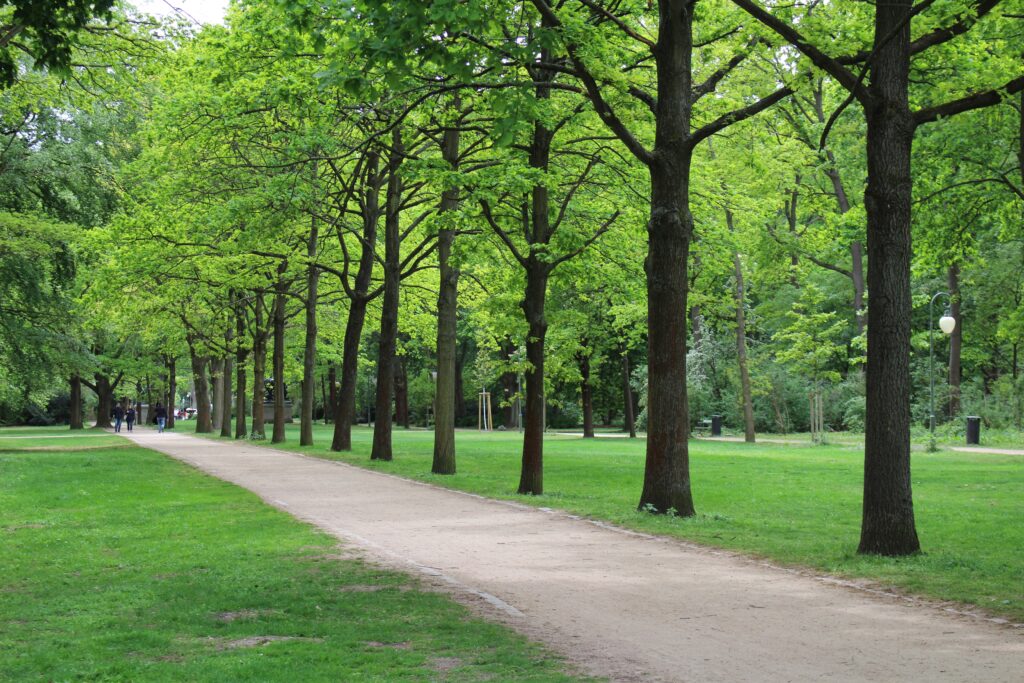 Do not miss to eat a wrap
Feeling hungry? Try a super tasty wrap filled with onions, chicken kebabs, tomatoes, salad, and sauces. It costs nearly 70 THB and tastes yummy. If you like cheese, add 20 THB. It is situated somewhere between sections 8-19, Soi 6-14 and it is the right place to fill your tummy before you start shopping. If you do not like wraps, there are a lot of other yummy choices all around. There is a whole section dedicated to food stalls, but many find the random ones available outside to be tastier!
Take your kids to the Children's Discovery Museum
Another free and wonderful attraction for children in Chatuchak, the Children's Discovery Museum has several interactive displays and shows a variety of topics. From dinosaurs and the human body to architectural design and mirror tunnel, there are different ways for curious kids to be captivated. The outside play area is perfect for energetic kids and fountains are one of the best options to cool down on a hot, sunny day.
Enjoy go-karting
Magic Land was a Bangkok theme park that stopped operating since 2000. The rides were dismantled and the sounds of laughter were stopped. However, today, the area provides a different type of fun: Go Karting. It is one of the popular things to do in Chatuchak Market. The track provides fun for the entire family and the remains of the old-Disney like castle remain in the background. This facility is known as Motorsports Land.
Have a look at the Bizarre Elephant Tower
The Elephant Tower is one of the weirdest sights in the Chatuchak, Bangkok. It is also Bangkok's most interesting pieces of architecture. The seven-part, high-rise building with 32-floors was designed in such a design that it looks like an elephant. The eyes were created by huge windows with dark glasses, and the tail effect was also attained by using dark glasses in protruding windows. The ears are regarded as balconies and the tusks are the overhanging offices.
Watch a boxing match at the Channel 7 Boxing Stadium
One of the four main places in Bangkok to watch an interesting Muay Thai fight, Channel 7 Boxing Stadium can be found behind the Northern Bus Station. Admission to this park is free and here, every Sunday boxing matches are held, starting from 2 p.m. The action is shown live on Channel 7.
Enjoy shopping at the Chatuchak Market
One of the common things to do in Chatuchak Market is shopping. Visiting Chatuchak would be incomplete without visiting the Chatuchak weekend market. It is one of the biggest and most popular weekend markets on the planet. There are over 15,000 stalls spread across various zones. It is said that if you are not able to get anything at Chatuchak weekend market Bangkok, it probably does not exist. Selling every item including clothes, electrical items, souvenirs, food, and household goods, it is a great place for shopaholics. Even if you do not plan to purchase anything, it is worth a visit to see the different types of goods and to taste the delicious food.
Before you visit the Chatuchak market Bangkok, you must be aware of the Chatuchak Market timings. The market opens Friday night at 6 pm and closes by midnight. On Saturday and Sunday, it is open from 9 AM to 6 PM. Most of the shops disregard these Chatuchak Market timings and keep the shops open even after that. While going to Chatuchak Market on Friday, make sure you wear light and comfortable clothes and shoes.
Wear sunglasses to protect yourself from sun rays. Always carry a bottle of water with you. Carry enough money. Most of the vendors in the Chatuchak Market do not accept debit or credit card and there is no ATM nearby. Be cautious of pickpockets and keep an eye on your belongings. It is better to visit this market in the morning as during the afternoon it gets too crowded and hot. Free Chatuchak Market map is available at the information kiosks.
How to go to Chatuchak Market
Jump on the Skytrain to Mo Chit Station. Take exit No. 1 and follow the crowd until you see several rows of canvas stalls selling varieties of clothes. While continuing to follow the crowd turn right and you will find a small entrance that leads to the clothing section of the market. Another option that you can opt for is taking the MRT subway to Chatuchak Park Station, the follow the crowd till you arrive at the entrance that lets you inside the market. If you want to go to the flowers and plat section, then you must get off at Kamphaeng Phet MRT Station.
These are a few things to do in Chatuchak Market. Next time, when you visit this market, make sure you do these things.